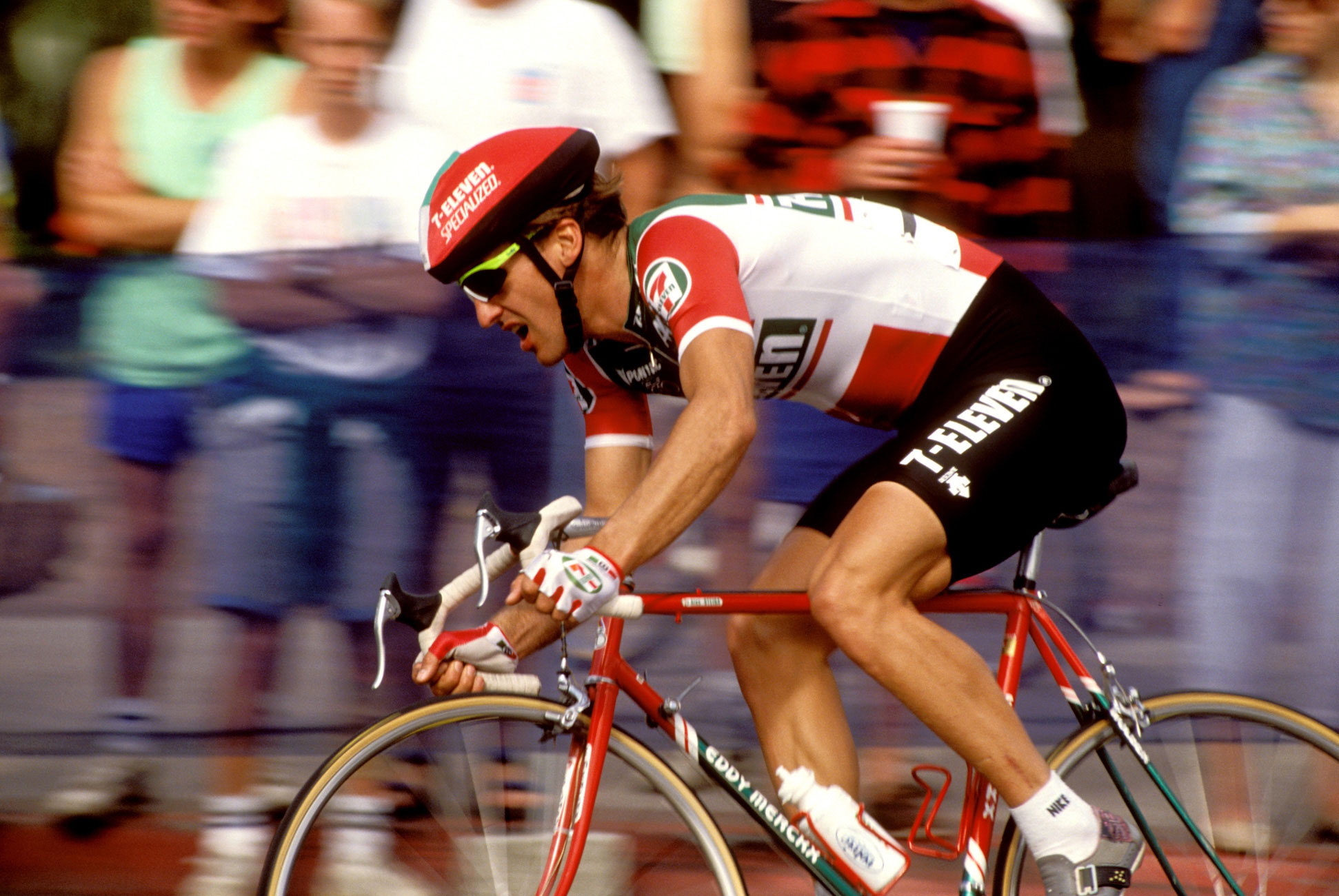 "Family is super important to me – creating a current
and living history is something very special."
Alex Stieda was born on April 13, 1961 in beautiful Vancouver, British Columbia. Alex is a former professional cyclist, television personality, and self-proclaimed cycling ambassador. He lives in Edmonton and is married to Samantha and father to their two children Kalie and AJ. Currently Alex is a Senior Account Executive at ServiceNow, a Tour of Alberta Board Member and Co-founder, and a Rapha Ambassador.
Alex's career in bike racing started in Vancouver, British Columbia in 1977. At the age of 16, he learned that he could apply the anaerobic power developed while playing ice hockey to racing on the track. Within two years, he had won every junior national track title and qualified for the junior world championships, where he finished 5th in the individual pursuit.
In 1982, he started racing for the 7-Eleven cycling team, traveling across North America where the team won 50% of the races that they entered, year after year.
Next, a bronze medal at the 1982 Brisbane Commonwealth Games in the individual pursuit proved to be a launching pad for qualification to the 1984 Olympic games in Los Angeles.
Turning professional in 1986, Alex and the 7-Eleven team raced the Tour de France for the first time. Finishing the 4km prologue time trial as the best rider on the team, Alex broke away on the following stage to claim enough time bonuses to win the yellow jersey, becoming the first North American to do so.
In addition, he won five jerseys in total including the polka dot as best climber, white as best rookie, red for intermediate points, and the combination. After losing the yellow, Alex held the polka dot jersey for an additional five days over the hills of northern France. Three weeks later, Alex was a proud finisher of the on the Champs-Élysées.
Alex continued to compete as a professional until 1992 winning many races throughout North America including Tour of Texas, Gastown Grand Prix, and stages of the Coors Classic.
Since retiring in 1992, Alex has continued his involvement in cycling, providing TV colour commentary for CBC, OLN, and Sportsnet, coaching with Juventus Cycling Club. He is the co-founder of the Tour of Alberta, a professional cycling stage race in his home province. Alex has raced the Cape Epic MTB stage race twice, finishing 3rd in the Grand Masters with Tom Ritchey. This last year he road the L'Eroica in Tuscany as an Ambassador for Rapha. He is an avid winter sport enthusiast racing the Birkibeiner Cross Country Ski Marathon 8 times and has started Skimo racing, a winter mountaineering event. Alex is a regular columnist in Pedal, a Canadian Cycling Magazine. Alex continues to share his passion for cycling by operating cycling camps at various locations throughout the world.
Palmeres
1979 1st National Track Cycling Champion
1980 1st GC Tour de l'Abitibi (Junior)
1980 1st, Gastown GP
1982 3rd Commonwealth Games, Individual Pursuit
1982 1st, Coors Classic, stage 8
1982 2nd, Gastown GP
1984 1st, Tour of Texas, stage 3
1984 1st, Gastown Grand Prix
1985 1st, Coors Classic, stage 1
1985 1st, San Luis Obispo
1985 1st Paris-Rouen
1986 Yellow Jersey, Tour de France
1987 1st, Tour of Texas, stage 5
1988 1st, Tour of Texas, stage 1
1988 1st, GC Tour of Texas
1988 1st, Tour of Florida, stage 4
1988 3rd GC, Coors Classic
1989 1st, Tour of Britain, stage 3
1989 1st, Canadian Tire Series
1989 1st, Tour of Texas, stage 3
1989 1st GC Tour of Texas
1990 1st, Superweek, stage 17
1990 1st, Canadian Tire Series, Ottawa
1991 1st, Montreal Tour, stage 3
1991 1st GC Montreal Tour
1991 1st, Tour de White Rock, stage 2
1992 1st, Tour of Willamette, Stage 6
1992 1st, Visalia GP
"Cycling is such a special activity – it combines the social and the individual contexts so that you are continually challenging your personal limits"
CAREER HIGHLIGHTS
1986 First North American to win the Tour de France Yellow Leader's Jersey
1984 Olympian, Los Angeles
1982 Commonwealth Games Bronze Medal for Individual Pursuit
Cycling teams
1982-1990 7-Eleven
1991 Evian-Miko
1992 Coors Light
Partnerships
Tour of Alberta
Rapha
Pedal Magazine
Spokesman for Argon18, Shimano and Oakley
Product Enthusiast for Fischer, Colmar and Swix
Charitable Activities
Project Rwanda (Global)
Kids with Cancer (Alberta)
CASA – Child, Adolescent & Family Mental Health (Alberta)
Canadian Mental Health Association – Wellness ride (Alberta)
Qhubeka Foundation/World Bicycle Relief (Cape Epic)
Heart & Stroke Foundation (Alberta)